Unlocking In-Room Entertainment: Google Chromecast 3rd Gen in New Zealand Hotels and Motels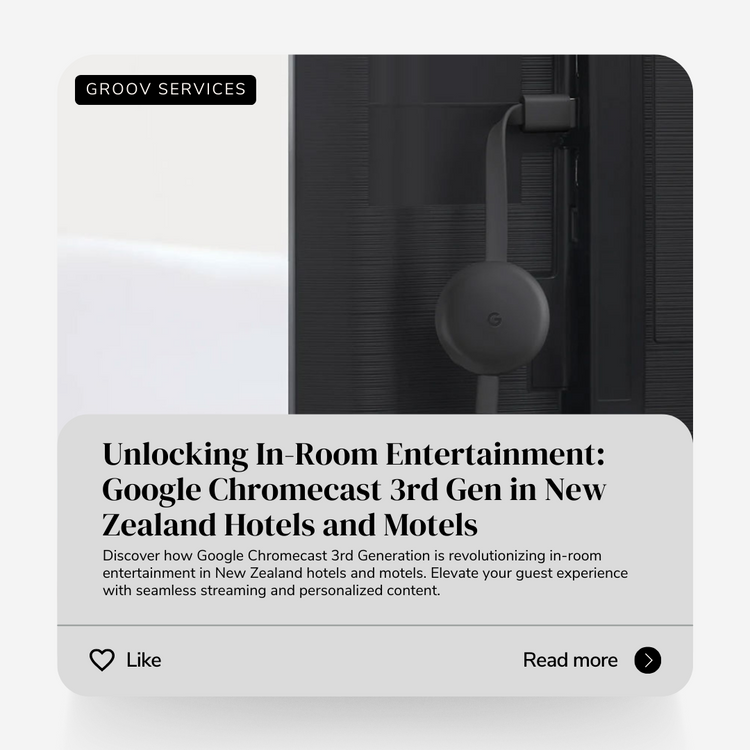 In today's fast-paced world, travelers seek not only comfort but also connectivity when they stay at hotels and motels. Responding to this growing demand, the hospitality industry continually explores innovative ways to enhance the guest experience. A noteworthy solution gaining popularity in New Zealand is the Google Chromecast 3rd Generation, revolutionizing the way guests enjoy their stay by offering seamless streaming and connectivity options. In this article, we delve into how Google Chromecast provides a cutting-edge guest experience, drawing insights from recent developments in the hospitality sector.
The Demand for In-Room Entertainment
Modern travelers expect more than just a comfortable bed and a clean room when they check into a hotel or motel. They desire in-room entertainment options that rival the experience they have at home, especially with the proliferation of streaming services. Guests seek ways to access their favorite content, whether it's movies, TV shows, or music, during their stay.
The Google Chromecast Solution
The Google Chromecast 3rd Generation has emerged as a game-changer for hotels and motels striving to meet these evolving guest expectations. It enables guests to effortlessly cast their content from personal devices like smartphones, tablets, or laptops onto the in-room television, ensuring access to preferred streaming services, apps, and content, thus creating a personalized and immersive experience.
The Benefits of Google Chromecast for Hotels and Motels
Ease of Use: Google Chromecast boasts remarkable user-friendliness. Guests merely need to connect to the hotel's Wi-Fi network and follow a few straightforward steps to start casting their content to the TV. This simplicity enhances guest satisfaction and reduces the need for staff assistance.
Personalization: The ability to cast content from personal devices empowers guests to enjoy their favorite shows, movies, or music without limitations. This personalization significantly enhances the overall guest experience.
Cost-Efficiency: Implementing Google Chromecast proves to be a cost-effective solution for hotels and motels. It eliminates the need for expensive in-room entertainment systems or cable TV packages while still providing guests with access to a wide range of content.
Security: Highlighting the significance of secure guest casting, Google Chromecast offers secure casting options that protect both guest privacy and the hotel's network integrity, ensuring a worry-free experience for all.
Compatibility: Chromecast remains compatible with various devices and operating systems, making it accessible to a wide range of guests, regardless of their preferred technology.
The adoption of Google Chromecast 3rd Generation in hotels and motels across New Zealand is revolutionizing the guest experience. It grants guests the freedom to enjoy their preferred content, enhances personalization, and reduces costs for hospitality providers. When combined with streaming services, it becomes a powerful tool for hotels and motels aiming to remain competitive in an ever-evolving industry. By investing in Google Chromecast, New Zealand hotels and motels not only meet guest expectations but also ensure a memorable and enjoyable stay.
How We Can Supply Chromecast Devices and Set Up Systems in New Zealand
As a leading provider of hospitality technology solutions, we offer hotels and motels across New Zealand the opportunity to enhance their guest experience through Google Chromecast devices. Our services encompass not only the supply of Chromecast devices but also comprehensive system setup and support to create a seamless and personalized in-room entertainment experience.
Our Role in Guest Casting
Our specialization lies in delivering top-notch Chromecast solutions tailored to the unique needs of the hospitality industry. Our expertise extends beyond mere supply; we play a pivotal role in elevating the guest experience. Here's how:
Supplying Chromecast Devices: We provide hotels and motels in New Zealand with Google Chromecast 3rd Generation devices. These cutting-edge devices enable guests to cast their favorite content from their personal devices to the in-room television.
Professional System Setup: We take care of the entire setup process, ensuring that Chromecast devices seamlessly integrate with the hotel's existing infrastructure. This includes configuring the devices to the hotel's Wi-Fi network, ensuring secure guest casting, and optimizing the user experience.
Customization and Personalization: We understand the importance of customization. We work closely with hotels and motels to tailor the Chromecast experience according to the establishment's unique branding and guest expectations. This level of customization enhances guest satisfaction and engagement.
Ongoing Support and Maintenance: Beyond the setup phase, we offer ongoing support and maintenance services. This ensures that hotels and motels can rely on a consistent and trouble-free guest casting experience.
Our Partners

Contact Us Today
Whether you're in search of a solution to enhance your guest experience or looking to buy Chromecast devices wholesale, we are here to assist. Contact us today to explore how we can help you transform your hospitality offerings and stay at the forefront of technological advancements in the industry. Your guests deserve the best, and we are here to make it happen.